A Hundred Less Things To
Worry About
Real Estate Repairs is the local repair authority real estate agents and homeowners have turned to for over 23 years. We offer a professional, worry free, and common sense approach to home repairs.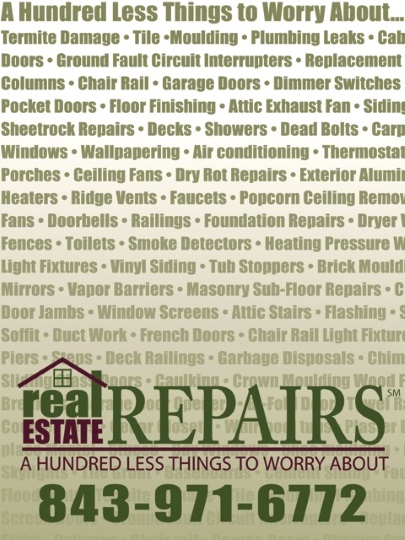 Quality – We will fulfill our client's visions while working in a positive and safe environment utilizing stringent quality control practices. Our pledge is to deliver high quality professional services on time with a long term value.
Commitment – We will develop relationships with clients, suppliers, and employees that will last a lifetime. Each of these individuals is instrumental to our success and growth. We are committed to employing and rewarding those who are committed to teamwork, craftsmanship, ethics and client satisfaction.
Reputation – We will continue the established company culture of exceeding client expectations and gaining trust through respect, timeliness, quality craftsmanship, and excellent performance by each and every Real Estate Repairs team member. We believe in treating others as we would want them to treat us.


"When people try to get people to help with their homes it is usually difficult. Real Estate Repairs were on time, on target and did exactly what they said and when they said it. That is hard to find in this industry. That is why I would give Real Estate Repairs the highest marks that I could. Thank you for being there."

Susan F
"The repair teams that were sent to my homes were very professional, skilled, and conscientious to the job at hand. Also, the office team kept me informed of progress and scheduling. The quality of workmanship was exceptional and truly masterful. I would highly recommend Real Estate Repairs for anyone seeking any type of home repairs/renovations!"

Kim R
"As an architect, I have a distinct appreciation for construction quality and service. I can also be hard to please, frankly. I found the team at Real Estate Repairs to be well qualified, responsive, and fair. They stand by their work and respond exceptionally if it's not 100% right. It is refreshing to come across and work with such a reputable group. I give them my highest possible recommendation."

Bill L
You can trust that our professional, creative, and common sense approach to home improvements will give you 100 less things to worry about.